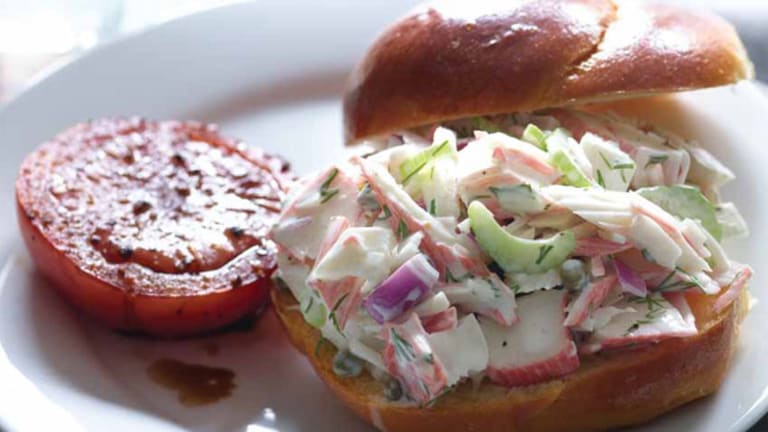 Too Hot to Cook! Easy No-Cook Recipes for Summer
As my sister-in-law likes to say "if you can't take the heat... turn off the oven." English is not her mother tongue and so she tends to bungle sayings like these -- we get such a giggle.
Now in Israel we are the immigrants - and, kindly enough, she never laughs at our attempts to speak a language that reduces our grammar to that of a four year old. 
So in honor of my sweet sister-in-law I bring you 4 dishes for which you do not need your oven.
This is a refreshing summer dish when watermelon and blueberries are at their best. Fun for outdoor or indoor grilling!
The trick to making good lemonade is to use a simple syrup which is made with equal parts water and sugar. Simple syrup can be used for the base of many drinks, including sangria.  
I happen to be a soup girl. I take after my mother and grandfather a"h who enJOYed piping hot soup even on a boiling hot day. But if you can't take the heat - a quick, cool gazpacho should do the trick.  
CREAMY MOCK CRAB SALAD SANDWICHES 
This is delicious on challah rolls, kaiser rolls, or your favorite sandwich bread.  
Beautiful and incredible on its own, this tropical slaw is also superb on fish or chicken.
This fat-free Chilled Cucumber Melon Summer Soup is my new obsession. Play around with the flavors and colors by making two batches and swapping the honeydew for cantaloupe in the second.
A sprinkle of crumbled feta adds a creamy twist to this Middle Eastern Tabouli Feta Salad and will help fill you up.
Every time my mom-in-law goes on a "diet" (nasty little 4 letter word!) she stocks up on bulgur to make tabouli salad. So I followed suit; keeping up the family traditions is important to me.