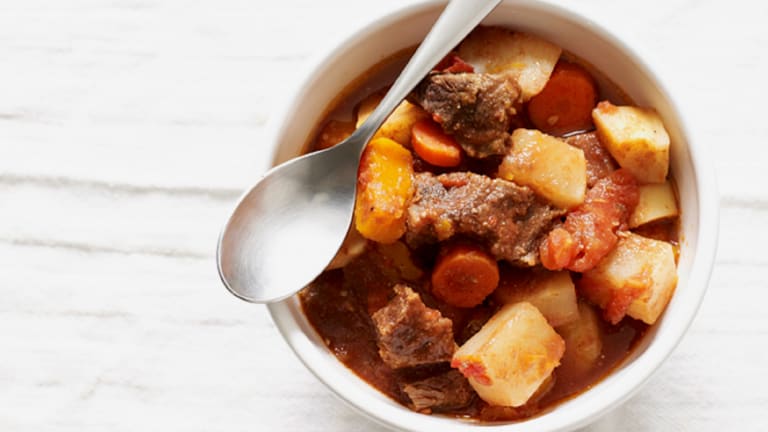 Beefed Up Slow Cooker Recipes
Nothing like that aroma of a meaty stew cooking throughout the day – doesn't matter whether you're busy at home, or just returning after a long day. You take a sniff and the whole house tells you that dinner is ready!
Here are some great dishes that can satisfy the hungriest of tummies after a day at school or work. (They're not only fab for your family, they're gorgeous enough to serve to company too.)
These recipes are all meant for any night of the week with cooking times of up to 8-10 hours.  For Shabbat slow cooker recipes, check out 25 Cholent Recipes. 
Asian BBQ Beef Ribs with Seasoned Chips
The ribs are so mouthwateringly soft, the meat just falls right off the bone and melts in your mouth.

Beef Stew with Root Vegetables
Traditional and delicious. Serve it with thick, crusty bread and experience perfection!
Slow Cooker Beef Short Ribs with Ginger Mango BBQ Sauce
Nothing can be easier than short ribs in sauce in your slow cooker and nothing is as melt in your mouth delicious either. 
Slow Cooker Chili with Pulled Pot Roast
This is one of those hearty incredible beef dishes you will want to serve while watching a big game.  Don't forget the toppings. 
We love a good brisket especially on holidays, so when you have a lot to cook this one can go in the slow cooker and you can set it and forget it. 
Slow Cooker Braised Short Ribs
Braised short ribs made easy in the slow cooker. 
This one can be made low and slow on the stove or placed in the slow cooker to use less energy. 
What's your beef? No, I mean, what's your favorite slow cooker meat meal? (Aside from cholent, of course!)