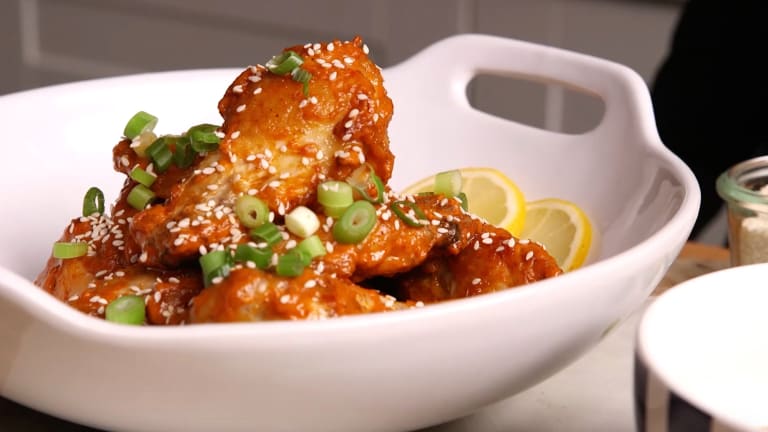 Hubby's Monday Night Football Faves
I've told you before that I have an alter ego, and her name is sporty spice.
Happily, Hubby is a sports lover too.
But I've had to adopt his customs. And so this Philly girl's shabbos china sports Raiders' colors. Thankfully I independently love my silver and black china pattern and the year our family dressed up as the Raiders for Purim. 
What I love most though is the traditional football foods, whether for Sunday nigh or Monday night or Superbowl or just because we love our wings, dogs and guac. 
Watch how easy it is to cook up Kosher Corn Dogs, Fiery Harissa Wings, and the Cheesiest Nachos on the planet. No football for you, no worries--make these for din din or melava malka --I aim to please ALL!
Retro food is in and corn dogs are the quintessential old school fave. Perfect in every bite with crispy batter and juicy hot dog spiked with jalapeños.
Buh-Bye Buffalo and HELLO harissa! These hot wings have all the zip of the classic and then some. Forget what you know about dipping sauce, mayo, and whatever pareve cheese-like add-in, we have a healthy and creamy Tahini Dipping Sauce loaded with flavor and zero substitutions.
CHEESY PARTY NACHOS WITH GUACAMOLE
Serve our creamy nachos with plenty of guacamole. And don't forget to pass the napkins, because our cheesy sauce is loaded with flavor and toppings.
Try these cheesy bites as croutons for your favorite tomato soup or just pop em in your mouth while watching the big game. 
Deli roll is the ultimate modern Jewish food perfect for watching the big game.  It can be made in advance, served warm or room temp and has all the flavors of game food. 
Who doesn't love chicken poppers? These are so yummy, you will want to make them all the time. 
MEXICAN STREET CORN (DAIRY FREE)
Mexican street corn or Elotes is all the rage, it takes corn on the cob to another level, but it is usually made with cheese.  We crisped up some panko and made the sauce extra flavorful so the cheese is not necessary and the corn is super delicious. 
Use some extra ripe avocados to make this salw without mayo for a super flavorful slaw to serve on game day.