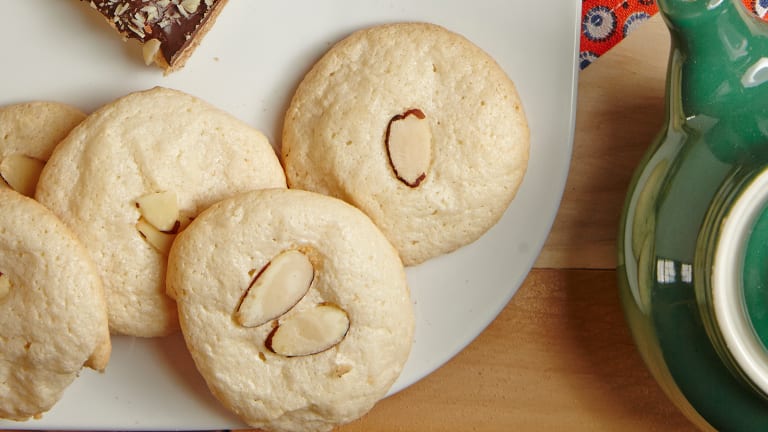 All About Almonds
Almonds are my secret weapon on Pesach. You can turn almonds into flour, butter, milk and even a paste. Roasting almonds with some sugar creates a wonderful snack and makes a great addition to desserts, salads, and breakfast yogurt. Combining almond milk with chocolate is simply decadent, and makes an easy, good-for-you dessert poured over fresh fruit such as banana. I love using almond flour in place of potato starch in baked goods as it provides a nuttier and fluffier texture than potato starch does, and almond paste makes unbelievable cookies. You can easily use store-bought almond products in all the recipes below but I have provided recipes for making your own almond flour, butter, milk, and paste for those of you who cannot find it in your local store, or make everything at home for Pesach.
These cookies are a hybrid of sugar cookies and meringues. You will not believe how simple they are to make.  
With only 5 ingredients you can make these yummy Almond Bars or Truffles: Choose your preference based on how you want to serve them.  
These gluten free Almond Blondies are easy to make with only a few basic ingredients.  
ALMOND MILK CHOCOLATE SAUCE with SUGAR & SPICE ALMONDS
I love to drizzle Almond Milk Chocolate Sauce on top of bananas with Sugar &Spice Almonds for a special treat.    
ALMOND PASTE
Almond Paste is a thicker and sweeter version of Almond Butter, very similar to marzipan.   
Making your own gluten free Almond Flour is easier than you think then check out 21 Recipes Using Almond Flour. 
This recipe yields 2 results: The Almond Pulp leftover from making Almond Milk is perfect for gluten free recipes.  
In addition to dessert bars or truffles, almond butter adds richness to salad dressings and is delicious spread on fresh, crunchy vegetables such as carrots or celery.