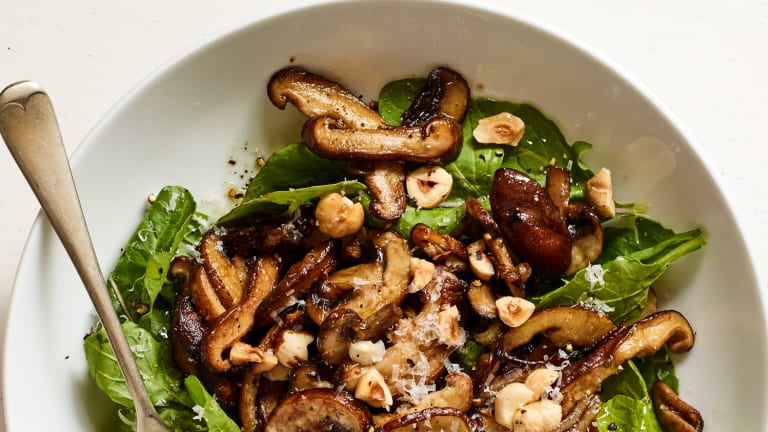 28 Recipes for Cooking with Mushrooms
I love mushrooms. Really, I do.
And Hubby hates them. He really does.
And the kids are split.
I am working on them.
Mushrooms are a delicacy, I tell them, especially when prepared the right way. My grandfather, a"h, was an outstanding chef and he really knew what to do with a mushroom. Unfortunately, he passed away before I could learn the recipes for his mushroom masterpieces.
Yet the aroma of those dishes linger in my mind. There's something homey about mushrooms --they are earthy and meaty and gamey and so satisfying, whether grilled, sautéed or stewed. And while you find mushrooms in many different dishes, I favor a special Italian recipe for a fancy dairy meal.
Tonight we are making Creamy Mushroom Risotto with Spinach Walnut Salad. 
Risotto is an Italian dish made using short-grain rice cooked in broth to a creamy consistency. The stock is added gradually while the rice is stirred constantly. This cooking technique releases the starch in the rice, giving the finished dish a creamy texture. Many risottos include parmesan cheese and butter. So in an effort to keep mine authentic, I am using vegetable broth (instead of chicken so we can keep in the dairy) and of course, I am adding mushrooms. 
It will be appreciated by those with a finer palette in your household – at least that's what I tell anyone who doesn't appreciate my hard work on this dish. The truth is that the palette doesn't need to be all that refined – even the kiddies will like this creamy rice dish.
Still, I know it's not Hubby's favorite meal. He's a meat & potatoes guy. A girl has to cook something for herself once in a while -- but I'll be reasonable. Tonight it's mushrooms and dairy. Tomorrow, we can have sloppy joes for din din or even leftover sausage and pepper rolls from last night.
Hubby and I disagree on tomatoes and eggplant too. I see another compromise coming.
If mushrooms are like manna from heaven for you, you'll be thanking G-d for these tasty dishes:
Ridiculously Tasty Recipes with Mushrooms