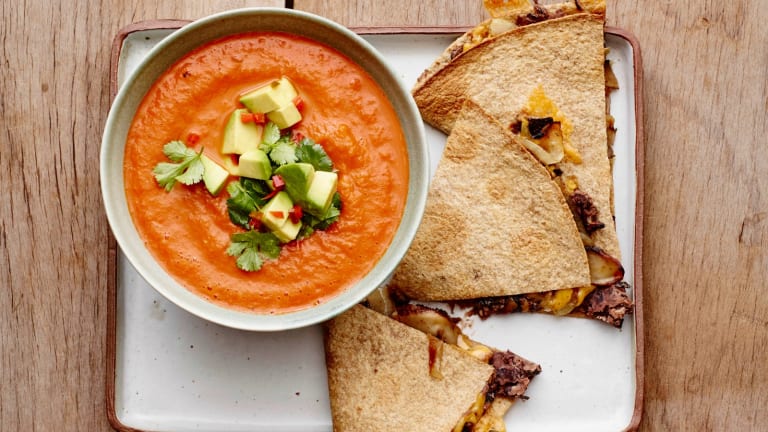 20 Simple Ways to Reuse Leftovers for a Zero Waste Life
One of the easiest ways to cut down on your grocery bill is to view leftovers as ingredients for completely different meals. With a good dose of creativity, you'll be amazed at the minimal amount of food that will end up in the trash, and at the money you'll save by utilizing what's in your fridge.
Many leftovers like cold rice or congealed meat lack culinary appeal, but can actually be turned into delicious new dishes. Whether you transform pita with leftover vegetables, pasta sauce and cheese or blend overripe fruit with yogurt, here are 20 tips to make zero-waste meals a part of your life.
1. Oatmeal
Turn oatmeal the kids didn't finish into the star ingredient of a hearty muffin or delicoius pancakes. All you need is ½ a cup of cooked cereal to make Leftover Oatmeal-Raisin Muffins or these Leftover Oatmeal Pancakes.
2. Wonton Wrappers
When you use wonton wrappers to make egg rolls or kreplach, transform extra wonton wrappers into crispy snacks the whole family will love. Cut each on a diagonal; place on a greased baking sheet, coat with cooking spray; and twist into a spiral. Sprinkle with sesame seeds and salt. Cook at 375°F for 4 minutes or until lightly browned.
3. Chopped Nuts
Chopped nuts make a great topping for yogurt or oatmeal. They can also be combined with dried fruit, mini pretzels and reinvented as trail mix.
4. Ground Meat
Turn hamburgers, taco salad or meatloaf into a streamlined version of shepherd's pie. Coat a skillet with oil and heat the meat, breaking it into large crumbles. Mix with mashed potatoes, seasonings, and bake in a casserole dish for about 20 minutes.
To use as a topping for baked potatoes, mix the crumbled meat with pasta sauce.
5. Waffles
The lonely waffle left from the kids' breakfast can be turned into a decadent dessert. Heat the waffle in the oven or toaster and top it with ice cream and chocolate sauce.
6. Rice
Make delicious rice snacks by mixing old, cooked rice with salt and rolling into small balls. Sprinkle with toasted sesame seeds.
Convert leftover pilafs into cold salads by adding chopped, fresh vegetables, flavored oils and seasonings.
To make fried rice, heat cooked vegetables, leftover rice and soy sauce in a large skillet. If desired, add slices of thinly cooked egg.
7. Roasted Root Vegetables
Roasted vegetables make a wonderful base for soup. Whether you have a casserole of mixed roots like parsnips, acorn squash and carrots, or just sweet potatoes, puree the vegetables in food processor with lots of stock. Return to a pot and simmer for 30 minutes so the flavors can blend.
8. Pot Roast and Stewed Meats
Pot roast or stewed meat can also be transformed into a hearty soup. Puree the meat and vegetables in a food processor with the broth (you may need to add additional stock). You can even add cooked vegetables left from a different meal to give the soup more body.
9. Cake
Store slices of leftover cake in the freezer. Once you've accumulated a lot, make a delicious trifle by layering the cake, whipped cream and berries or chocolate sauce.  You can also use them in Cake Pops. 
10. Fish
Most poached, roasted or grilled fish can be tossed with freshly boiled pasta, a little bit of butter, cream and seasonings. Leftover salmon makes a great addition to angel hair pasta tossed with teriyaki sauce, sesame seeds and sliced scallions.  Fish cakes are another way to use up leftover cooked fish. 
11. Yogurt
To make fruit cream pops, blend yogurt with overripe fruit, pour in ice pop molds and freeze. When there's just a tablespoon or two of yogurt left, add to pancake, waffle or muffin batter for added protein and enhanced flavor.
12. Challah
Store extra slices in the freezer. Once you have a lot, make bread crumbs, croutons, overnight French toast, bread pudding or challah kugel.
For bread crumbs, use a food processor to make fine crumbs, transfer to a cookie sheet and bake at 325°F until golden. For croutons, dice the bread into cubes, toss with olive oil or nonstick cooking spray and seasonings. Bake at 325°F until golden.
13. Cooked Chicken or Turkey
Shred leftover chicken or turkey and combine with lettuce and tomatoes to make sandwiches or wraps.
To make an exotic cold salad, shred or dice the leftover poultry and mix with mayonnaise, mustard, curry powder, chopped onions, celery, and diced apples.
To make a quick stir-fry, pan-fry vegetables with soy sauce and add shredded cooked chicken.
Produce
14. Celery
Make a quick chopped salad by dicing celery into small pieces, tossing with olive oil, salt, pepper, and lemon juice. Sprinkle with parsley.
Chopped celery is also great in egg, tuna or pasta salad.
15. Carrots
Turn leftover carrots into an elegant side dish by sautéing sliced carrots in olive oil and tossing with chopped parsley or chives.
Grated carrots enhance green salads and hearty muffin batters
16. Mushrooms
Make quick mushroom-cheese melts by tossing mushrooms with olive oil, salt and dried herbs. Roast in a 400℉ oven for 10 minutes, or cook on a grill pan. Drizzle thick slices of bread with olive oil, place the mushrooms on the bread and top with cheese. Broil until the cheese melts.
To make a mushroom grilled cheese, place sliced mushrooms on top of the cheese and grill or pan-fry (the cheese and mushrooms will cook at the same time).
17. Tomatoes
Hollowed tomatoes are wonderful filled with tuna, egg or chopped vegetable salad. Serve cold or at room temperature, or top with cheese and broil.
Tomatoes can also be filled with rice to make Cheesey Baked Tomatoes Stuffed with Rice.
18. Apples
Apples are one of the most versatile fruits. Add chopped apples to oatmeal or hot cereal; incorporate grated apples in muffin, pancake and waffle batters; or top with cinnamon sugar to make old-fashioned baked apples.
19. Broccoli
For a simple, family-friendly side dish, place broccoli in a bowl, season with salt and pepper, add a few drops of water and generously sprinkle with cheese. Microwave or bake until cheese is melted and broccoli is tender.
20. Bananas
By freezing leftover bananas, you can always make smoothies or banana bread in a pinch. Frozen bananas, whether plain or dipped in chocolate, are also delicious on their own as icy low-fat treats.
Try these fab "leftover" recipes!