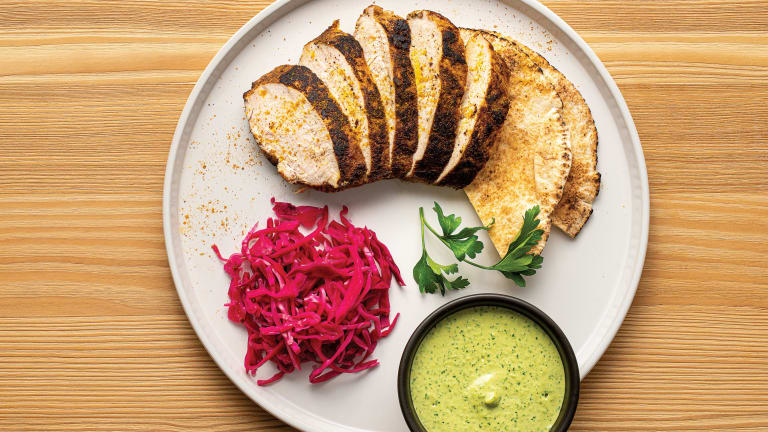 Cook Thanksgiving in an Hour
I'm not kidding, it is possible to spend Thanksgiving outside of the kitchen!  Each dish seems to add up to more and more hours in the kitchen, but with a good game plan and the recipes below you will be out of the kitchen and able to enjoy the day.  I'm no miracle worker though, sorry to say that there are no whole roasted turkey recipes here, those actually take a while to cook!  Instead, there are plenty of elegant and alternative turkey based options which will make you wonder why you ever bothered cooking the whole bird anyway!
You can get close to the whole roasted bird with elegant options such as Turkey Shawarma Roast, Maple and Cider Turkey Breast and Stuffed Turkey Breast, if you prefer chicken try the Roast Chicken with Chestnuts and Orange Yam Mash, and if you have two hours try the Spatchcocked Turkey which is basically a butterflied whole turkey.  Some fun, untraditional takes on the Thanksgiving turkey include Turkey Meatballs, Turkey Chili with Loaded Cornbread Muffins, Turkey Shepherd's Pie with Sweet Potato Topping and Turkey Schnitzel.
Pie and cornbread are all feasible tasks in under an hour.  My game plan is usually to conquer the baked goods and the meat in successive order.  Skillet Cornbread with Dried Cranberries & Sage and Pareve Cornbread Muffins take five minutes or less in prep time and yield delicious results.  Enjoy a classic Pumpkin Pie or even Pumpkin Brittle and Vegan Pumpkin Walnut Bread.
There's even time for starches like potatoes, sweet potato kugels and stuffing!  Creamy Smashed Potatoes with Chives(sub in earth balance and vegan sour cream to keep it pareve), Sweet Potato Casserole with Honey, Butternut Squash Kugel, Roasted Butternut Squash with Apples, and Maple Roasted Sweet Potatoes with Pecansall take about 45 minutes in the oven and will fill your kitchen with the most delightful of fall smells.  Stuffing can be a quick feat with Whole Wheat Challah Stuffing with Dried Cranberries, Simple Gluten-Free Stuffing, and Simple Harvest Stuffing.
Last but not least are the quickest parts of the meal: the greens and the cranberry sauce.  The quickest cranberry sauce is just one can opener away, but making your own can take only about 10 minutes with the Zinfull Cranberry Relish and classic Cranberry Relish.  Some quick and healthy greens include the Pareve Creamed Spinach, Sautéed Garlicky Kale, Green Beans Almondine, and Spicy Sautéed Leeks and Spinach.
Looking for more Thanksgiving ideas?  Check out last week's 50 Thanksgiving Recipe Roundup here!