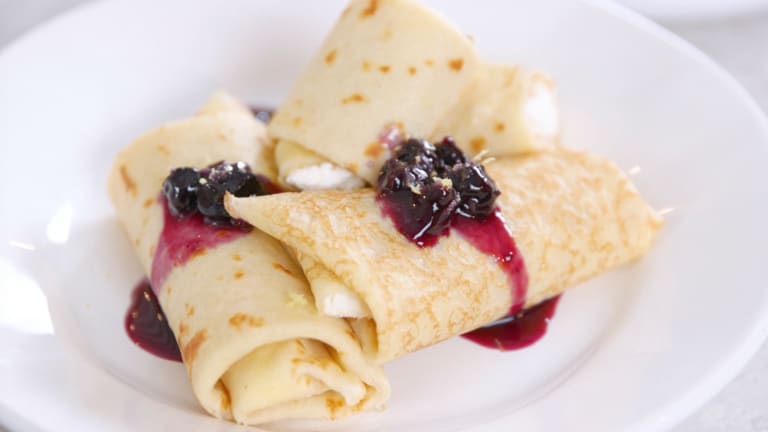 Our Favorite Cheese Blintzes Recipes Plus Variations
Cheese blintzes are a quintessential Jewish food especially celebrated on the dairy holiday of Shavuot. Sure you can buy a package of frozen blintzes and even use them to make a classic but simple Blintze Souffle, but don't you want to show off this year and make your own? It is easier than you think if you give it a shot and 100% worth it.
Once you master blintzes you can go ahead and make crepes too, truthfully they are basically the same thing, but you can learn the difference here.  Either way, you can make them sweet with fruit or cheese or go savory with vegetables or even meat. 
If you're looking for cheesecake recipes for Shavuot check these out. 
A traditional blintz is a thin crepe-like pancake filled with cottage cheese and that is where will begin, but whoever said we have to stick to tradition?
Blintzes are so versatile, once you get the crepe right you can really fill it with anything you can dream up.   Consider different fruits, different types of cheeses you can even try vegetables or fish for a more savory twist.  Then don't forget the topping!!  Cheese blintzes are wonderful with a fruity sauce, but chocolate works too if you are in the mood.  Check it out below, mix and match between the recipes or make your own, we are up for anything.
Start with the perfect crepe batter.  You might be able to buy these somewhere, but it is cheaper and tastier to make your own.  Learn to become a Blintz Queen right here with step-by-step blintz instructions from batter to blintz.
Blintz Soufflé couples a classic Jewish food (the blintz) with a classic French dessert (the soufflé). Every cook has a different version of this dish, but they all contain the basics of butter, cream, sugar and eggs. This recipe also includes orange juice and sour cream and is sprinkled with cinnamon sugar.  It also starts with ready made blintzes, the other kind of blintze souffle is more of a cake with a batter, but the same flavor of a cheese blintz. 
Advice:
If you have a pretty baking dish make sure to use it for this one. It is best served right out of the dish at the table.
Creamy Cheese Fruit Blintzes are filled with cream cheese, cottage cheese and the fruit of your choice. After being mixed together in an electric mixer, the cream and cottage cheeses are smooth and tangy and the addition of the sweet fruit is perfectly flavorful.
Advice:
Make sure to let the batter stand for 15 minutes after blending it in the food processor. It will definitely turn out better that way!
Chocolate Cheese Blintzes are the perfect addition to your meal or are also delicious as a snack. They don't have to be warm to enjoy. They will be devoured no matter what temperature they are at:
Hot, Warm, Cold... Always delicious.
Advice:
You can make this recipe easily without the chocolate, but the chocolate spread adds a new flavor dimension that is definitely worth trying.
These Savory Crepes or Blintzes are actually 3 recipes in one. It starts with a great crepe recipe and then gives three options for savory fillings:
1. Spinach, feta and oven roasted tomatoes
2. Aloo Gobi
3. Apple Brie and Onion
Advice:
Add curry powder to the batter if you are filling it with Aloo Gobi, use chopped herbs in the batter for the Spinach filling, and use your imagination for more great ideas. The batter is parve so you can even experiment with meat fillings.
Stage Deli's Cheese Blintzes are a classic. New York's Stage Deli opened in 1937 and, unfortunately, closed it's doors in 2012. Stage Deli was patronized by numerous celebrities and had many Broadway themes dishes and dishes named after celebrities. Although obviously not named for a celebrity, other then the celebrated restaurant itself, these blintzes are  must try!
Advice:
Follow the tip at the bottom of the recipe on how to fill and roll the blintzes. You can either roll them or try folding them like in the picture.
Ice Cream Blintzes are the perfect dessert blintze. You can make this recipe in seconds with store-bought chocolate sauce and crepes but we must admit, it tastes WAY better when you make it yourself (both recipes are given).
Advice:
You can make it dairy or parve depending on the ingredient's that you use. If you make it parve you can keep this recipe in mind for Shabbat and other holidays.
Last but not least. Drum roll please......
Lemon Cream Cheese Gluten-Free Crepes with Raspberry Sauce is the perfect gluten-free option for Shavuot. You can use just the crepe portion of the recipe and fill it will fillings of your choice, or stick to the full recipe. It will be amazing either way. You really won't even know that it's gluten-free.
Advice:
The recipe prep and cook time does not include time for the batter to chill so make sure you take the time to chill the batter for 1 to up to 48 hours.
More: Try Our Gluten Free Cheesecake Recipe For Shavuot and Beyond
For all of our blintz recipes click here and browse through more below.