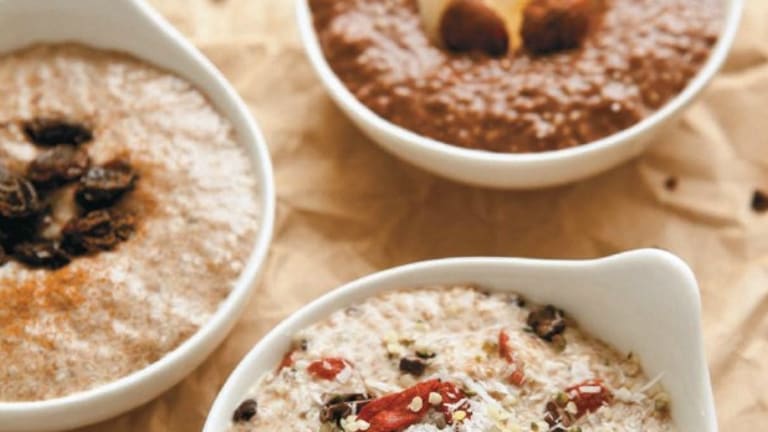 Make Ahead Breakfast Ideas
If your life is anything like mine your mornings are crazy and getting everyone to sit and eat their breakfast before the bus comes is the worst part of my day, or it used to be.   
I do believe breakfast is important for all of us.  Studies show that kids and adults who eat breakfast tend to do better at school and work and maintain healthier body weight and cholesterol levels.  
Plus my kids are out for lunch and they either don't eat or eat poorly, so I have to get a lot of good stuff in at breakfast.  So I started a schedule.  Mondays are oatmeal bowls, Tuesdays are eggs and toast, Wednesdays are waffles, Thursdays are bagels, and Friday we decide the night before. 
Having a schedule has definitely helped change up our morning craze, but I'm always looking for ways to get more fruits and veggies in my meals for myself and my kids and prep as much as I can ahead of time.  That's where make-ahead breakfast recipes come in handy.   When you cook ahead you might even have a minute to enjoy your coffee and read the news or at least put away the laundry.  
Hazelnut Chocolate Chia Pudding
We are a major chocolate-loving family, so I give in to the craving especially when I can get my kids to eat other healthy foods with it.  You prepare this chia pudding the night before and it is so easy, even your 5-year-old could do it. Leave it in the fridge and you are ready to go in the morning.  We like ours a little warm like a thick hot chocolate filled with protein, fiber and omega 3's from the chia.  You can also make with your favorite flavors and serve with fruit.
Try a Baked Oatmeal.  This version has quinoa too for added protein, but either way, you make it the night before, leave it to cool overnight and serve room temperature in the morning.  
Instead of eggs, I am going to start making quiche.  This way I can make it ahead and I can add veggies.  Quiche can be made with or without crust, it can be made large or in muffin tins, you can even freeze individual ones for later. They are really easy to make if you leave off the crust.
Here is an unusual breakfast idea especially for those of us not used to eating meat for breakfast.  Take polenta and layer it with cheese and veggie sausage crumbles.  You can even add some cooked frozen spinach or mushrooms.  It is hardy for an everyday meal, but can be made ahead and reheated quickly.  High in protein and fiber.  Great before exams.
Maybe I am just getting ready for Hanukkah early, but we all like anything fried and they reheat well and are filled with veggies.  I am totally happy if my kids start their day with a couple of these babies.
Don't discount dinner leftovers and other savory foods as good breakfast choices.  Hummus is incredibly filling on a slice of bread or in a pita and is another great breakfast option. 
Want more for breakfast? 
Dini Klein shares her favorite Healthy Breakfast Ideas. 
My clients are always asking for breakfast items that they and their kids can both enjoy. Sugary cereals and breakfast bars aren't the ideal way to start the day, which is where these recipes come into play. Some of them you can make in advance, and others are better fresh, for the days when you have a little more time. Serve them with a nice fruit smoothie, and you're all set for the morning! With a little planning, you can make delicious, unique, and healthy breakfasts that both you and your kids will crave.
100% Whole Wheat Blueberry Scones
There is nothing better than the smell of butter baking in the oven and for me it's all about using real wholesome ingredients! These scones are hearty, filling, and bursting with juicy fresh blueberries. Eat them at home or grab one to go while running to catch the school bus!
In the summertime, I frequent to the Farmer's Market. My favorite ingredients are the tomatoes in a rainbow of colors, and ripe nectarines that I can smell from miles away. This week I decided to utilize my Farmer's Market produce in these summery pancakes. Not only do they look beautiful, but they add a nice, unexpected texture. Coconut pairs beautifully with nectarines which is why I fused the two together to create my favorite new breakfast treat. Enjoy!
This dish is one of my all-time favorites! Farro is an incredibly healthy whole grain; high in minerals and chock full of fiber that will keep you and your kids full all morning long. Usually seen in savory dishes, I've turned this nutty grain into a creamy and sweet porridge. Feel free to add in any roasted fruit you've got on hand.
Beth Warren shares her Quick and Healthy Go To Breakfasts
It sounds cliché but it's true: breakfast is the most important meal of the day.
All night, our bodies are in a natural starvation mode and begin to breakdown our muscle for protein and create its own sugar. We want to take our bodies out of that mode as early as possible after we wake-up, typically within the first hour.
Starting your caloric intake earlier also helps you eat less later in the day. A frequent complaint I hear from my patients, pediatric or adults, is that they do not have time for breakfast. Here are some of my quick go-to breakfast recipes that have a complete balance of protein and fiber…oh yeah, and are delicious, too!
Chocolate Coconut Chia Pudding
Chia is not everyone's go-to breakfast, but it should be! My Chocolate Coconut Chia Pudding is full of goodness and when you top it with mini chocolate chips you get that sweet note that you might be craving in the morning. Chia is full of calcium, iron and magnesium to name a few and when you let it sit with liquid it swells up and makes for a delicious pudding.
My Buckwheat Pancakes are made of only 4 ingredients and they are delicious. The recipe yields 12 pancakes so it's perfect on a Sunday when your family finally all gets together. You can also make the entire yield and freeze them and only take out a few at a time for a quick breakfast alternative.
Like the chia pudding, Overnight Oats are another easy way to prepare your breakfast the night before and have it ready in the morning. I suggest almond milk, but you can use other type of milk if you prefer. If you would rather make your oats fresh in the morning just add all of the ingredients into a small saucepan over low-heat. It should only take about 5 minutes to get to the perfect consistency so you'll still have time to eat and get out of the door on time.
I didn't even include breakfast muffins, yogurt parfaits, regular oatmeal or cream of wheat in the list above, you already know about those.  
I hope these ideas inspire you to think differently about your breakfast options and to work ahead.  What's your favorite make-ahead breakfast?