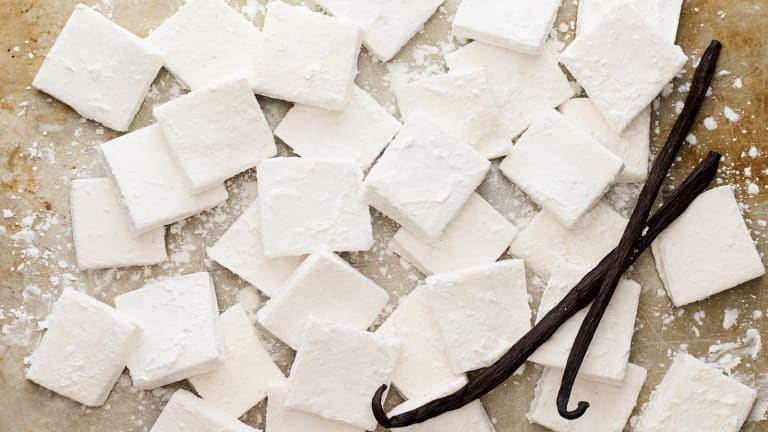 42 Cooking Tips Because You Asked For Them
We get so many questions every day from all of you and we love them!!! We love being an amazing cooking resource for you.  So we thought to compile all the questions and answers we get the most and share it with you here.  We'll even add to the list as you send in questions or leave comments below. 
Here you are, the 42 cooking tips you need in the kitchen because you asked for them. 
Tip #1- How much vanilla bean do I use?
One tablespoon of vanilla paste or vanilla extract is equal to one whole bean.
TIP #2 - What kind of tofu should I buy? 
Precooked "baked tofu" is firmer than water-packed tofu and comes in a wide variety of flavors.
Tip #3 - What is quinoa?
Quinoa is a delicately flavored, protein-rich grain. Rinsing removes any residue of saponin, quinoa's natural, bitter protective covering. 
Tip #4 - What is Greek yogurt?
Greek-style yogurt is made by removing the whey from cultured milk. Removing the whey gives it an extra thick and creamy texture plus a bit more protein.
TIP #5 - How to pit a cherry?
To pit a cherry, halve it with a paring knife then pry out the pit with the tip of the knife, or use a cherry pitter then make Cherry Clafoutis.
Tip #6 - Best Way to Oil a Grill
To oil the grill rack, oil a folded paper towel, hold it with tongs and rub it over the rack. (Do not use cooking spray on a hot grill.)
Tip #7 - Tips on Grilling Tofu and Fish
When grilling delicate foods like tofu and fish, it is helpful to spray the food with cooking spray before placing it on the grill.
Tip #8 - How to Pick a Melon
Look for symmetrical unblemished melons, without flat sides, that have a creamy yellow spot on the bottom indicating ripeness. At 92% water, this fruit should feel heavy when you heft it.  I love this Cucumber Melon Salad.
Tip #9 - Substitution for Buttermilk
No buttermilk? Mix 1 tablespoon lemon juice into 1 cup milk, works for non-dairy milk too. 
Tip #10 - How to Make Zucchini Ribbons
To make "ribbon-thin" zucchini, slice lengthwise with a vegetable peeler or a mandoline slicer or use a spiralizer. 
Tip #11 - What is Saffron?
Considered the world's most expensive spice, saffron contributes a pungent flavor and intense yellow color. It is sold in threads and powdered form and is delicious in rice.
Tip #12 - What is Kirsch?
Kirsch (also called kirschwasser) is clear cherry brandy, commonly used as a flavor enhancer in fondue and cherries jubilee.
Tip #13 - What is Mirin?
Mirin is a sweet, low-alcohol rice wine essential in Japanese cooking, like Spicy Salmon. Look for it in your supermarket with the Asian ingredients.
Tip #14 - What is Tempeh?
Tempeh is a chewy, nutty, fermented soybean loaf. Find it (plain or with added grains) near refrigerated tofu in natural-foods stores and many large supermarkets.
Tip #15 - Oat Flour Is a Gluten Free Alternative to Wheat Flour
Oat flour, made from finely milled whole oats, is a good source of dietary fiber and whole grains. It can replace a portion of all-purpose flour in many baking recipes and adds an oat flavor and texture.
Tip #16 - How to Get More Volume From Eggs
To get the most volume from beaten eggs, it's best for them to be at room temperature for Chocolate Chiffon Cake. 
Tip #17 - Do I Grease Cake Pans?
When using cake pans, they must be greased and floured to create a thin layer of protection against the oven's heat.
Tip #18 - Which Whole Wheat Flour is Better to Bake With?
Whole wheat pastry flour has less gluten-forming potential than regular whole wheat flour, making it a better choice for tender baked goods.
Tip #19 - How Do I Toast Chopped Nuts?
To toast chopped nuts: Cook in small skillet over medium-low heat stirring constantly until fragrant and lightly browned, 2 to 4 mins.  Use on Salads or to snack on. 
Tip #20 - What is Tahini?
Tahini (also spelled Tehina) is a thick paste of ground sesame seeds. Look for it in supermarkets in the Middle Eastern section and find 13 recipes using tahini. 
Tip #21 - How Do I Get Corn Off The Cob?
To remove corn kernels, stand a cob on its stem end in a bowl and slice them off with a sharp, thin-bladed knife.  This Mexican corn is easier to eat when the kernels are sliced off. 
Tip #22 - Should I Always Add Salt With Other Spices?
Check the label on your brand of curry powder and other spices: if it mentions added salt, you may omit the salt in the recipe or salt to taste.
Tip #23 - Which Tuna Has Less Mercury?
Chunk light tuna, which comes from the smaller skipjack or yellowfin, has less mercury than canned white albacore tuna
Tip #24 - Removing Strings from Snap Peas
To remove the stem and strings at the same time from sugar snap peas, hold the stem between your thumb and index finger, snap and pull down, eat raw or sauté them.
Tip #25 - What Do I Do if my Dough is Sticky?
When rolling out and braiding Challah if the dough is too sticky use olive oil instead of flour. Lightly grease your fingers when rolling like I do in my challah.
Tip #26 - What can I Substitute for Egg when Frying Cutlets?
Italian dressing is a great and flavorful alternative to egg in breaded chicken cutlet recipe, like in my Pastrami chicken.
Tip #27 - What is a Good Alternative to Breadcrumbs?
Try Panko (Japanese bread crumbs) or actual crushed cornflakes or rice krispies, or potato chips, pretzels or crackers instead of breadcrumbs on chicken cutlets or fish sticks.
Tip #28 - How do I Make Parmesan shavings for Salad?
Peel the parmesan cheese lengthwise, using a vegetable peeler to get long strips of parmesan cheese to top off the salad.
Tip #29 - How do I Make My Own Croutons?
Slice leftover bread into desired size croutons. In a nonstick pan, heat about ¼ cup extra virgin olive oil and toast the bread in the pan until it becomes crunchy, about three minutes. Add salt, pepper, other spices and herbs such as garlic, rosemary, or basil. Alternatively, preheat oven to 450℉, drizzle olive oil and spices of choice over cubes of bread and toast for about ten minutes, making sure not to burn bread.  Delicious on a wedge salad. 
Tip #30 - How do I select the best cauliflower?
Select cauliflower that is firm and tightly packed and make sure that the heads are purely white with no brown spots especially when serving in a raw salad.
Tip #31 - What do I do with Leftover Meatloaf? 
Leftover meatloaf makes a wonderful sandwich – cold, sliced thinly with some mustard. If you like it hot, use a flat, stovetop griddle, lightly sprayed, and heat slices on both sides.
Tips #32 - What is Lemon verbena?
This herb has bright green delicate leaves that produces a strong lemon flavor and aroma. Lemon verbena can be added to teas, salads, sorbets and as a flavoring to jams, stews and more.
Tip #33 - What are Fire Roasted Tomatoes?
Fire roasted tomatoes have a rich, smokey flavor. It can be used in marinara sauces, roasts, and barbecue sauces to uplift traditional sauces. Find it in the supermarket or make your own. To roast your own tomatoes; slice tomatoes in half, brush with olive oil and place on medium heat on an open grill. Once tomatoes are blackened in spots (about 5-8 minutes) place in bowl and wrap in plastic wrap. Remove peel and dice tomatoes when ready to use.
Tip #34 - How To Make The Best Pastry Crust?
For that melt-in-your mouth crust, the margarine or butter and water must be ice cold. 
Tip #35 - How Do I Sprinkle Powdered Sugar on Top of a Cake? 
Put the confectioners' sugar into a hand sifter and sprinkle it on top of the treats.
Tip #36 - Moist Cake and General Baking Tips
Parchment paper is the secret to making baked products that will not get stuck to the pan.
Spray the top and cups of the muffin tray before baking to allow muffins to slide out easily and prevent muffin tops from sticking.
Use a sifter for the dry ingredients to enhance the fluffiness and texture of cakes and cookies.
Cover cake immediately after removing from the oven and cake will become soft and moist on top. 
A cooling rack helps cookies cool down evenly thus providing a better tasting product.
Tip #37 - Soup Tips
Cheesecloths are a great way to make a clear, flavorful soup. Place vegetables in cheesecloth, tie and place in soup.
Beets add a golden color to soup.
Tip #38 - Juicing a Lemon
The best way to get juice out of a lemon is to roll the lemon on the countertop, applying pressure with the palm of your hands. 
After rolling the lemon, half and squeeze either cut side up so all the seeds remain in the lemon (make sure to wash skin thoroughly!) or squeeze cut side down into your palm allowing the lemon juice to pass through while catching any seeds with your cupped fingers.
Tip #39- Perfectly Emulsified Salad Dressing
When dressing salads, place all ingredients for salad dressing in a covered glass jar and shake vigorously.
Tip #40- Leftover Risotto Tip
Leftover risotto can be made into arancini di riso which is fried risotto balls. when risotto is cold, form the risotto into small balls and stuff with a piece of mozzarella. Coat with beaten egg, panko bread crumbs and deep fry. Serve with tomato sauce and grated parmesan cheese. (Or try this meat version of arancini if you had a pareve or meat risotto)
Tip #41- Smelly Hands Tip
Wash your hands with a few spoonfuls of mouthwash to cleanse hands of garlic, onion or other strong odors.
Tip #42- Cook Like A Pro
Read the recipe completely before starting so cooking will be a breeze!
Prepare as many ingredients as you can before beginning a recipe. This minimizes clean up time and helps you cook more efficiently.
Use the freshest and highest quality ingredients you can find to amp up the flavor of your dish. There is no way to substitute the taste of fresh garlic, fresh lemon juice, freshly ground pepper or high quality olive oil.
When baking make sure to use exact measurements for flour, eggs, oil, baking powder/soda. A little less flour or baking powder will impact your end product. However, nuts, fruits and chocolate can be added to your liking and taste.