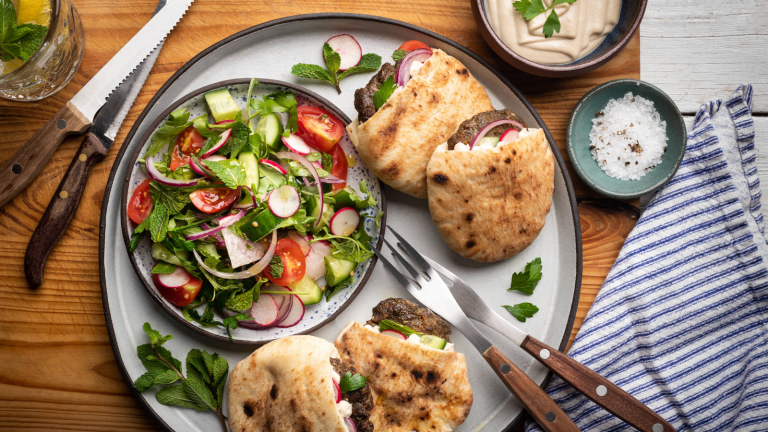 Budget BBQ- 3 Ways to Make the Most of Your Kosher Meat Dollar
Whether you're expecting a crowd or planning a romantic soirée, a little know-how will help make your barbecue a hit without breaking the bank.
With Memorial Day weekend, the start of the summer grilling season is upon us. Cooking outdoors on a gas or charcoal grill is a great way to entertain. For those who don't grill year-round, cooking outdoors means escaping the confines of the house to enjoy the warm weather. Plus, when summer starts to sizzle, grilling outside helps keep the house cool and clean. Here are three approaches to summer grilling along with some money-saving tips to help stretch your kosher food dollar.
Burgers & Dogs
Let's face it; nothing beats a juicy homemade burger or the wonderful snap of a kosher hot dog grilled to perfection. Hamburgers and hot dogs are great choices for a summer dinner or a backyard bash. You can buy ground beef by the pound or pick up some ready-made patties. Hot dogs and sausages come in a wide variety of styles and flavors, so there's something from every taste and every budget.
Budget Tips
Choosing regular ground beef over lean will save you a dollar per pound on average. During grilling, the extra fat in regular ground beef drips off but the burgers stay juicy. Buying pre-formed hamburger patties can actually be a better deal than buying ground beef by the pound, especially if you need to feed a large group. The time saved by buying patties is invaluable. Sales on hamburger and hot dogs are pretty common, especially around big summer grilling holidays like Memorial Day, Independence Day, and Labor Day, so stock up.
Chicken
Pound for pound, kosher chicken is one of the most affordable choices for grilling. Marinating chicken prior to cooking helps keep it moist and adds a lot of flavor. Chicken must be cooked thoroughly, so be sure to use indirect heat to finish and check with an instant-read meat thermometer to ensure adequate doneness.
Budget Tips
Buying whole chickens or bone-in parts is much more budget-friendly than skinless/boneless breasts or thighs. If your grill has a high enough lid, try cooking whole chickens vertically, using indirect heat. A half-full beer can inserted in the cavity holds the chicken in place and generates moisture. Chicken is enormously popular so sales are frequent. Check often and stock up when you can.
Rib Steak
Tender and flavorful, kosher rib steaks are a delicious choice for summer grilling. Rib steaks come bone-in or as boneless rib eyes. Choose this "king of kosher steaks" when you want to indulge a little or to celebrate with family and friends.
Budget Tips
For a nice dinner for two, consider buying a thicker-cut rib steak and sharing rather than two thinner steaks. Thinner steaks are easier to overcook and you don't want to spoil your investment. Kosher London broil is a great, economical alternative for larger groups. Marinate for extra flavor and tenderness.
Steaks, chicken or burgers and dogs, what's the best bet for a summer barbecue? Let me know what you think by leaving a comment below.