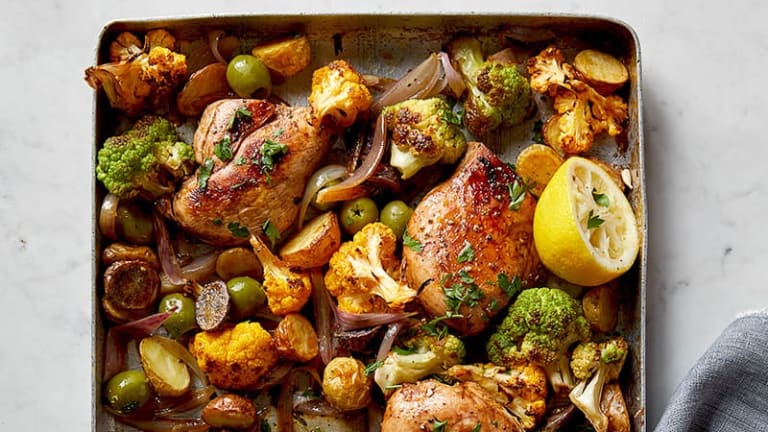 Lightened Up Shabbat Dinner Menus
SIGN UP FOR YOUR 30 DAY FREE TRIAL HERE
The hardest part of any diet, as we all know, is Shabbat. Because unlike birthdays it comes every single week, without fail. Which in the past is always when we failed. Hubby and I would be so motivated and so "strict" all week long - only to binge on challah and dessert and everything served in between. 
We recently partnered with WW (formerly Weight Watchers) to help focus on weight loss and wellness. After being on the new myWW+ program for 4 weeks, I can honestly say, it just works. I know many may be familiar with WW and their proprietary SmartPoints™ system, but the program has evolved over time to include a ton of ZeroPoint™ foods from chicken breast to fat free Greek yogurt (they cost your budget zero!)- and not to mention, all you need is their app to track your Points and have the support you need at your fingertips. My fave app features are the barcode scanner, as you can zap anything before it goes in your cart to see the Points value and make smarter choices and the 24/7 coach chat… a weight loss and wellness coach on standby to chat whenever you need it!? Yes please!
SIGN UP FOR YOUR 30 DAY FREE TRIAL HERE
Most importantly, WW isnt about deprivation, but about making smarter choices to fit in what you love - even if its challah! Check out some of these delicious WW-approved recipes I crafted for your next Shabbos. And don't miss our newest recipe for 2-Ingredient Dough Rugelach, it's dairy so it's perfect for Shabbat morning. 
One of the most important parts of WW is tracking your meals.  So we recommend tracking food before Shabbat so you make a conscious decision of what you want to eat and where you want to treat yourself and splurge. Making that upfront commitment can really help you stay on track and feel in control during a time that we often can feel that we can go off the rails. 
So I had Tamar, my favorite Dietitian work with WW to come up with these fantastic low point Shabbat menus for us.
SIGN UP FOR YOUR 30 DAY FREE TRIAL HERE
Lightened Up Traditional Shabbat Menu
For a traditional Shabbat menu with fish and chicken we kept it light with a simple fish you can serve warm or even room temp, followed by an easy sheet pan chicken with lots of veg.  Don't forget the ZeroPoint™ dessert.  This menu has 4-8 SmartPoints™. 
Mexican Vegetarian Menu
This slow cooker vegetarian chili can be left on a hot plate for hours until you're ready to eat. Serve alone or over some simple cauliflower rice which happens to be 0 SmartPoints™.  We start with a simple but fun and fresh 1 SmartPoint™ salad so that we can really enjoy the delicious cookies for dessert. This menu has between 8 and 11 SmartPoints™.
Light Up The Grill Gluten-Free Menu
It's getting warmer outside, so this menu is made on the grill.  We love food on sticks so let's make fill our grills with ZeroPoint™ veggies and fruits on sticks along with a delicious BBQ chicken and grilled potatoes. 
This menu has between 4 and 8 Smart Points™. 
Israeli Menu
This Israeli menu starts with hummus, but you will really love the impressive and easy chicken and fennel entree.  Keep it going with the delicious nice cream for dessert. 
This menu has between 7 and 14 Smart Points™. 
Asian Lightened Up Menu
You will love this Asian menu complete with soup and crispy wontons and a really fun dessert. This soup is rich and hearty, if you want something lighter with ZeroPoints™ try this Asian Vegetable Soup. 
This menu has between 7 and 14 SmartPoints™. 
Italian Dairy Shabbat Menu
Last, but not least is our Italian dairy menu (feel free to save this one for Shavuot). This one has a no noodle lasagna, you will love all the veggies in this meal. 
This menu has 11 SmartPoints™.