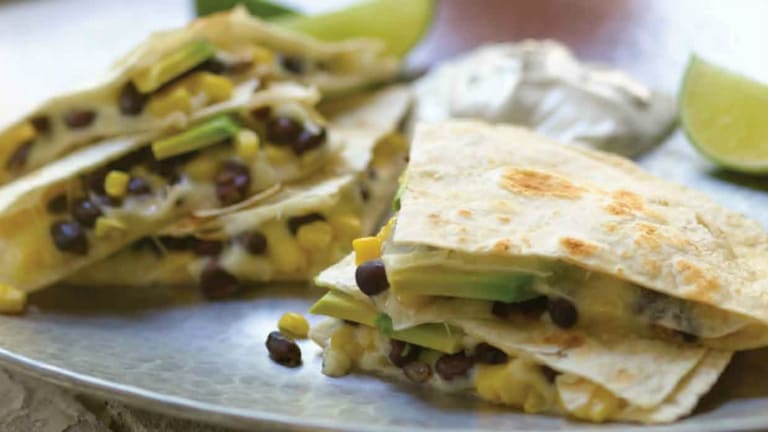 Fun Ethnic Recipes to Make with Your Kids
Know what I love? I love that my kids love to cook. They love their personalized aprons; they beg to peel a potato. I met my first peeler at age 25, and that's not even a joke.
They love the process -- and the results too. They are so proud when they pass their own homemade dish around the table with their soft little round hands. And I admit to being a real kitchen stage mother. When everyone takes a bite and goes "ooh, yummy!" I'm not sure whose heart is fuller at that moment.
I know I don't have to convince you of the benefits of teaching your kids to cook early in life. But when I stopped to think about it, I was impressed by the many things they learn in the kitchen: math skills, multi-tasking skills, kitchen safety rules and cooking tricks, for starters. When they are little, they refine their fine motor skills and when they are older, they hone cooking techniques.
But to me, the most valuable aspect of learning your way around a kitchen at a young age is acquiring that the sense of kitchen confidence, the kind that lasts a lifetime. For you to understand where I'm coming from, I have to divulge a little personal history. My mom (who is wonderful in lots of ways) had zero interest in cooking, to the point that she tried to build a house without a kitchen. When everyone (including a very puzzled contractor) convinced her it wasn't a good idea, she gave in, but decided to position it off to the side of the house, next to the garage, so she never would have to go there if she didn't want to. Needless to say, we didn't cook together. But we certainly dined out together, too many times to count – and we really learned to appreciate different cuisines from around the world.
So a kitchen has always been a scary place for me, and I vowed it won't be like that for my kiddies. Now my motto is "Let's get comfy in the kitchen," make it an important part of our home.
My experience dining out with my family has paid off in other ways, though. I say, cook cuisines from around the world with your kids – it's a super opportunity to educate your little loved ones about cultures, ethnic foods and geography. Give your globe a place of honor in your kitchen and refer to it often. It's a form of enrichment your kids will cherish.
Take your children on a worldwide tour with these food ideas:
Middle East
Shawarma Chicken and Hummus Pitas with French Fries
Israeli food is so easy: throw anything in a pita pocket – falafel, shawarma, salad – hey, even meatballs. You can make this with pargiot – the dark meat of the chicken, too. It's the pita that momentarily transports you to the Holy Land (as well as the tahini and chumus and shawarma spices). Kids love food that they can eat with their hands – and a sandwich in a pita is a perfect example. Add a side of fries (and stuff a few into your pita) and you will share pita heaven!
Central America
Go Mexican style! Everyone loves Mexican food: tacos, salsa, guacamole, tortillas, and quesadillas.

A quesadilla is a soft cornmeal or flour tortilla, usually filled with cheese, folded up and cooked. Quesadillas are such an easy hands-on kids' dish -- easy to make, easy to eat. You can put anything in a quesadilla. If you think the kiddies won't go for my Mexican Quesadilla fillings: corn, avocado and black beans with the cheese, go with a super simple (though not super authentic) Pizza Quesadilla – just add cheese and sauce. Warm it till it's soft and gooey and then use a pizza slicer to cut wedges, and serve.
If you want to try your hand at other quesadilla recipes, try
• Chocolate Quesadillas,
• Quick Quesadillas, if you're tight on time!
Asia
Asian dishes include Chinese, Japanese and Thai foods, among others. If you are feeling adventurous (and your children are old enough), you can tackle sushi with them – a fun activity and extremely hands-on, or make the easier salad version. You can also make fake Kid-Friendly Sushi: spread a wrap with peanut butter and jelly, roll it really tight, and slice. Have fun with different fillings: apple butter, cream cheese and cucumber slices work well.
Ramen noodles are long, curly and fun to eat. You and your kids can put up a pot of them along with some stir fry veggies, or make Mommy's Ramen Noodles.
One of my favorite dressings is carrot ginger. It's the house dressing at Japanese restaurants, but it's not easy finding a kosher bottled version. So I had to come up with my own recipe. Asian Salad with Carrot Ginger Dressing is the result and you'll love it! The dressing also makes an excellent dip. (Kids love dipping veggies! In fact, they love dipping anything in anything.) What I like about this recipe is that it isn't difficult and it allows the children to participate with the preparation according to their ability.
Some other Asian-style dishes to try:
• Vegetable Lo Mein
• Beef and Green Bean Stir Fry
• Sweet and Sour Chicken with Sesame Rice
• Beef Sukiyaki with Noodles
• Asian Shiitake Mushroom Soup
• Asian Steak
• Asian Style Turkey Burgers with Pickled Cucumbers
The next stop on your global tour is…
Dessert
Ok, it's not a location strictly speaking. But in my house, dessert is a destination in itself. We'll do anything to get there, even eat up the peas. To me, dessert means baking, with all its delights. And sure enough, my kids seem to have inherited my passions.
I love to lick the bowl.
They love to lick the bowl.
I love to lick the spoon.
They love to lick the spoon
I love to lick the beaters (turned off, of course!)
They love to lick the beaters.
We're going to be reasonable about this, so it won't end in a fight. We'll be calm. We'll be mature. After all, I'm the Mommy. (That means I get it first!)
Even the smallest of hands can roll a ball of dough and put it on a baking sheet. This recipe for Chocolate Peppermint Sugar Cookies is chocolaty, cool and sweet. Tell the kids that they need to crush candy to make these cookies, and you'll have a crew lined up to assist you in no time. For extra brownie points, make a double batch and send some to school for teachers and friends.
Some other sweet treats to bake with the children:
So what favorite recipe do you enjoy preparing with your kids? 
And what is your son's or daughter's signature dish? 
 I want to hear all about your children's adventures in the kitchen. Leave a comment and share your nachas!