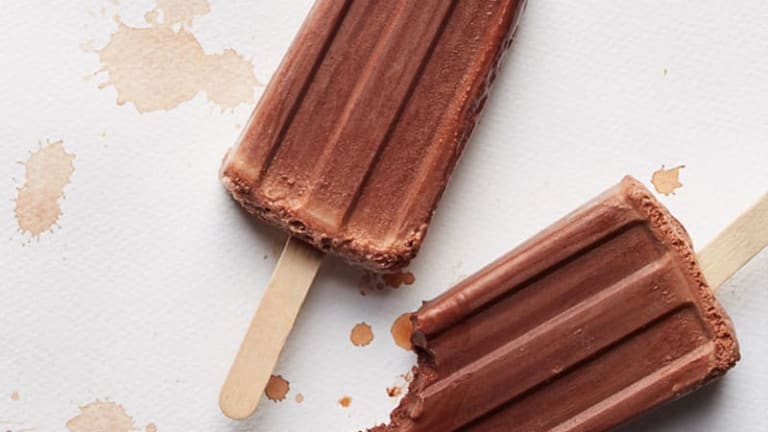 Greek Yogurt Is For So Much More Than Breakfast
SIGN UP FOR YOUR 30 DAY FREE TRIAL OF WW HERE
Yogurt is one of my favorite "go-to" foods, in fact, my love for it may actually qualify as an obsession. I eat it almost every day straight or blended with frozen fruit for a quick breakfast smoothie, packed with a granola bar and fresh fruit for lunch or as a base for healthy homemade popsicles or tart frozen yogurt. Rich in calcium, protein and other healthful nutrients, yogurt really packs a punch.
Yogurt can also be a fantastic source of probiotics, look for live and active cultures written on the label. Probiotics are "good" bacteria that your body actually needs. Based on the strain, probiotics have been shown to increase immunity and improve digestion. 
My favorite kind of yogurt is Greek yogurt.  It is typically strained of excess liquid, creating a thicker luxurious texture and a higher concentration of protein. It not only tastes delicious on its own, but it happens to be a versatile ingredient in all my cooking. 
I always buy plain non-fat Greek yogurt instead of the flavored ones which contain excess sugar. If I am in the mood for a little sweetness, I just add a drop of honey, silan and/or fresh fruit.
We recently partnered with WW, formerly Weight Watchers, to focus on health and wellness starting with three recipes using the WW 2-Ingredient Dough.  This magic dough is made from self-rising flour and Greek yogurt and can be used to make all sorts of sweet and savory foods, like our bagels, rugelach, and knishes. Did you know, you can enjoy all your favorite Jewish carbs and lose weight and live a healthier life when you join WW? SURPRISE!!!
Now that you bought a vat of Greek yogurt, here are a few more interesting and unexpected recipe, shared with us from our friends at WW. 
Spoiler alert -- Greek yogurt can and should be used to add creaminess and filling protein to salads, pastas, desserts, soups—the list goes on and on (as seen below!). 
SIGN UP FOR YOUR 30 DAY FREE TRIAL HERE
10 new ways to use Greek yogurt
Add chopped cucumbers, dill, and a pinch of salt to the yogurt for a quick tzatziki. Slice up some veggies and dip away!
Instead of using milk or sweetened yogurts, toss plain Greek yogurt into your smoothie for a thicker texture.
Try it as an alternative to heavy cream when making Alfredo sauce for pasta.
Mix Greek yogurt with chocolate syrup and—ta-da!—you have an easy fruit dip.
Use as a rich substitute for sour cream. It's perfect for baked potatoes, burritos, nachos, and so much more.
Stir Greek yogurt into puréed vegetable soup to add toothsome thickness. (Tip: If you added too much spice to, say, a veggie chili, this also helps cut down on some of the heat.)
Use the yogurt in place of mayo in tuna, and egg salad recipes to cut down on SmartPoints™ values.
For a simple but sweet dessert, stir in light jam, raspberries, raisins, cinnamon, and shredded coconut.
Out of ranch? Add spices and a bit of milk to Greek yogurt for a quick, creamy salad dressing.
Reach for Greek yogurt the next time you make pizza dough (seriously!).  It's that same 2-Ingredient Dough again, this time to make pizza. 
Get the recipe for Greek Yogurt Fudge Pops on WW, they're only 4 Smart Points.