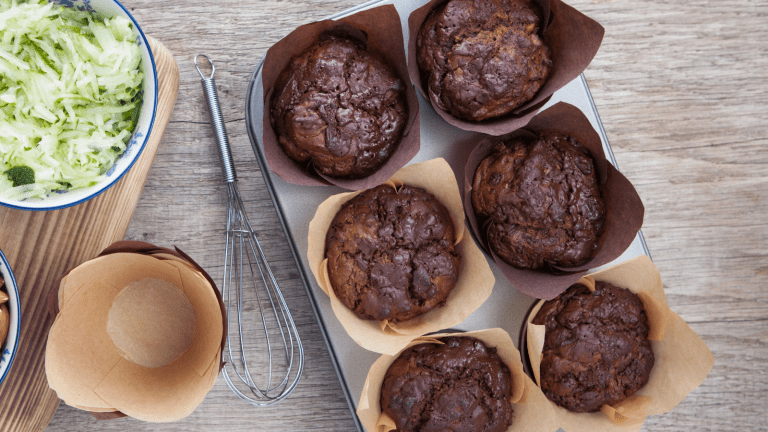 22 Healthy Muffin Recipes
It was an ironic scene that had played itself out one time to many. I stood in the bakery on a Friday afternoon, observing the pre-Shabbat rush. I looked at the baskets and carts of the women surrounding me, and felt a rush of pride. They were purchasing bakery-made challah, cake, cookies and pastries. I on the other hand, had made it all myself.
Then what, you might ask, was I doing in line at the bakery? No, I was not there as an ego booster, nor was I there to see how much money I was saving by baking everything myself. The answer was clear as I got to the front of the line. "What flavors do you have today in whole wheat, sugar free, low fat muffins?"
It's the sentence a constant dieter will occasionally utter. Everyone needs a treat. The muffins weren't delicious. Truth be told, they were hardly even good. But I knew enough about baking to realize that aside from the difficulties caused by whole wheat or low fat baking, sugar free baking presents an extra challenge that I didn't think I was capable of facing.
There are loads of sugar substitutes that could provide the sweetness of sugar, but sugar provides much more for baked goods that sweetness. When whipped together with fat, such as butter, margarine or oil, sugar joins with carbon dioxide to create a light and airy end result. Sugar's unique caramelization abilities also provides baked goods with a beautiful browned color. Most importantly, sugar is hygroscopic, which means it attracts liquid. This results in the moistness we have come to expect from a baked treat.
Without sugar, I couldn't imagine producing anything edible, let alone delicious. One day the local bakery raised the price of their diet muffins. It was only a twenty five cent difference, but that was enough to break the camel's back. I went home determined to finally overcome the obstacles and bake my own healthy muffins.
As it turns out, I'm thrilled that I was pushed to this, as I've made some discoveries in healthy baking that yield exceptional end results. For a fraction of the cost of the bakery goods, I'm eating muffins that are more delicious than anything I ever imagined I could eat on a diet.
The first discovery I made is white whole wheat flour; this is flour made from an albino species of wheat which is naturally whiter than ordinary red wheat. My next great discovery was agave syrup. While it isn't as low calorie as other sugar substitutes, it is natural, and it is low on the glycemic index, which means it won't affect your body the way sugar will. And more importantly, it has a liquid texture, which helps replace the liquid-loving aspect of sugar.
I also like to add moist and healthy ingredients, both to add to the nutritional value and the taste, as well as to help the texture. Butternut squash is a lovely vegetable which is amazingly complimented by the cinnamon and sweetness of these Walnut Streusel Topped Butternut Squash muffins. Inspired by my favorite smoothie flavor, my Strawberry Banana Muffins with Oatmeal Topping play on the delicious flavor combination of strawberries and bananas. Not the healthiest of the lot, but still healthier than an ordinary muffin, my Peanut Butter Chocolate Chip Muffins are a delicious treat for the dieting peanut butter lover. Make sure to use natural peanut butter in these muffins, and you are saving a ton of calories!
If you, like me, have always been hesitant to try you hand at healthy baking, take it from me. Healthy baking is a lot easier than it looks, and nothing you can buy at the bakery will ever compare to the smell and taste of something you can pull out of your oven.
Browse through more variations and find 22 healthy muffins to choose from below. 
Healthy Muffins