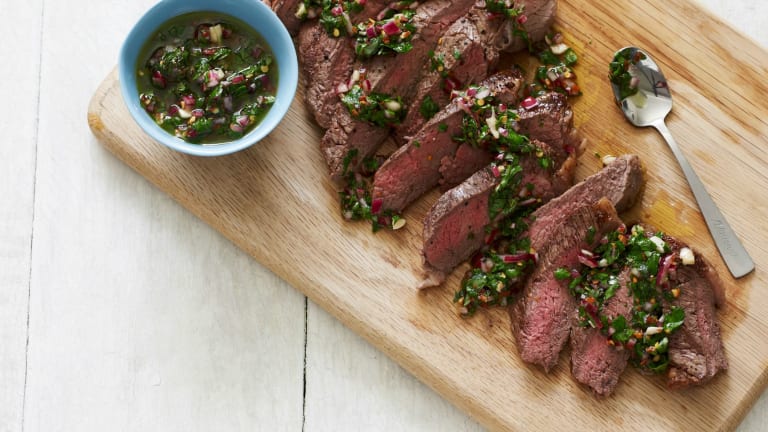 Favorite BBQ Recipes
It's time to take the party outside. Well in Israel we actually grill all year. Hubby's got the grilling bug and we're regulars at the table outside. But if it's just heating up where you live, you gotta know there are so many healthful and creative ways to top your everyday BBQ favorites. Try these on for size and live it up this summer.
Grilled Steaks with Chimichurri
Chimichurri originally hails from Argentina and is a great sauce for marinating or serving with grilled meat. The classic base mix is a combo of minced parsley, oregano, garlic, olive oil, vinegar, and red pepper flakes. Because finding checked versions of these herbs can be difficult I used a mix of frozen cubes of chopped parsley, basil and cilantro—cutting the prep down to less than 10 minutes. Dorot also offers a jar of pre-made chimichurri if you really want to save time.
This summer corn salsa is great on any grilled creations or even on its own. Mix it up by adding some shredded cabbage and a touch of light mayo to the salsa.
My Tropical Slaw  is also a great hot dog topper.
Grilled sweet and juicy pineapple is great in savory dishes—especially paired with meats like hot dogs, chicken, and burgers. Are you getting the mix and match theme of this feature?
Grilled Chicken Legs with Peach Salsa
I love using summer fruits to make fresh sweet salsas. Peaches and tomatoes make for a juicy, sweet and tart combo that perfectly complements smoky grilled chicken. Try it over grilled skinless boneless cutlets as well.
Salad Stuffed Grilled Portobellos
A really satisfying vegetarian option. Grilling mushrooms only enhances their "meaty" texture and taste. Stuffing them with this light and filling chickpea salad makes it a meal in one.
Want more? 
 Turn the sprinklers on, set out the cold drinks and get grilling.