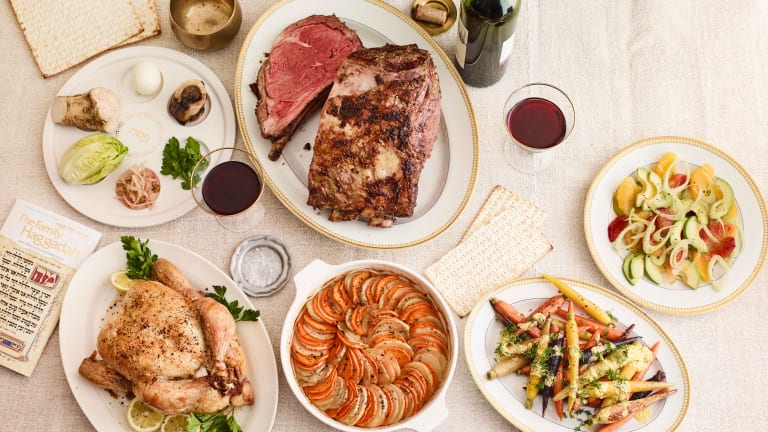 10 Sensational Seder Menus to Satisfy Everyone...We've Got You Covered :)
Below is a compilation of six varied menus that provide inspiration to develop a unique menu for your family and friends. Click through all to create your family's ultimate Seder feast.
MENU 1: JAMIE'S 4-INGREDIENT SEDER
You don't need a laundry list of ingredients to wow your guests and create something impressive. This menu proves that keeping it simple with few ingredients can really be the best way to go.
MENU 2: CHEF LAURA'S GOURMET DAIRY/FISH SEDER
Especially when you have 2 seders, it might be fun to try something really different one of the nights and just a little lighter with fish and lots of veggies.
MENU 3: SHIFRA'S 'NEW-AGE' MENU
Adding new flavors and dishes to a traditional meal brings some added excitement to the Seder.
We get so many requests for vegan Passover recipes every year so we made a full vegan Passover menu that doesn't hold back on flavor.
This menu brings a little something from every perspective.
This Moroccan seder menu from Levana checks all the boxes and don't worry there are no kitniyot.
With kosher for Passover soy sauce (no kitniyot) and fried quinoa you can enjoy a full Chinese style seder for something really unique.
Flavor your menu with safrron and sofrito and serve a few small plates for this Sapanish style Seder menu.
This menu is infused with the flavors of Israel, such as harissa chili paste. We also features schnitzel made with matzo meal, because no Israeli meal is complete without schnitzel.
Finally, here is a menu of simple dishes you can cook for 1 or 2 people when you are unable to invite or visit others.