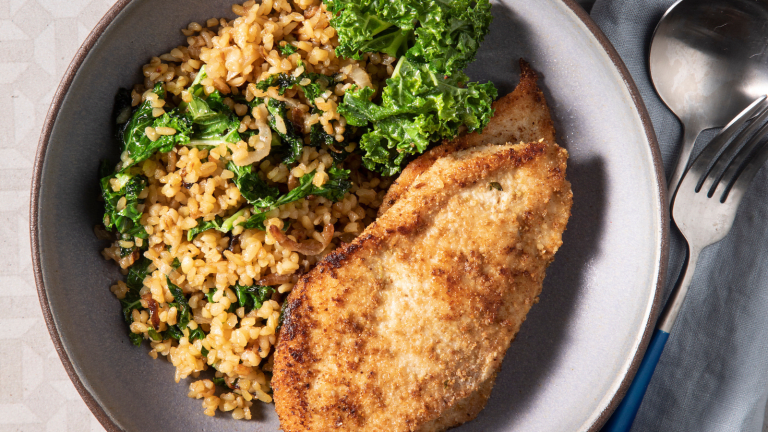 10 Flexible Dinner Recipes
Things are constantly changing in this COVID-19 world we are living in right now.  What started as something we thought we could ignore turned into a worldwide pandemic with almost everyone in some form of quarantine for some period of time. 
Whole states and countries have been on lockdown and only some are starting to see their way out.  What we have seen from all of you is that you are cooking more than ever, but you are having to be a little more flexible with the recipes.  For many yeast and/or flour is hard to find and for others, it has been eggs or baked beans.  To me that is one of the silver linings in quarantine for all of you, learning that a recipe is just a guide is an important lesson in understanding how to cook anything with what you have on hand.  
For more experienced cooks it isn't a big deal if a recipe calls for almonds and you don't have any or don't like them, you can easily find a swap or know enough when they can be left out.  But, you don't know how many emails I get each day asking if small things can be left out or subbed in a recipe, so I know this knowledge does not come naturally to all.  
So with that in mind here are 10 dinner recipes that are not meant to be followed.  Including substitution ideas for each and every one so you can find a way to make all these dinners with what you can get right now or next week when something else is missing from the store.
DUKKAH CHICKEN AND BULGUR SKILLET DINNER
I love this one-pan skillet dinner using thin chicken cutlets and quick-cooking whole-grain bulgur it cooks up in no time and the seasoning gives so much flavor, but it is also so easy to make substitutions for what you have on hand. 
Swap the chicken for turkey, tofu, or white fish fillets. 
Swap the spices for dukkah with any premade spice blend you have, finely ground nuts or sesame seeds, just don't leave out the salt.
Use any type of oil or even butter if making tofu.
Swap the bulgur for couscous they cook in about the same time, you can also use quick-cooking rice or if you only have regular rice, barley, or wheat berries, cook them first and then use in this recipe. 
Instead of kale use any greens you can find, herbs and/or spinach/chard are all perfect, but in the worst-case scenario all greens can be left out. 
If you don't have broth, use water. 
BRAISED POT ROAST OVER POLENTA
 This braised pot roast is made quick in an instant pot, but you can follow the same recipe and make it in a slow cooker or in a large pot on the stove or in the oven.  Just cook low and slow.  
If you can't get pot roast, make a brisket or for a similar shredded meat, use skinless chicken or turkey breast, skip the browning and just cook low and slow covered in the sauce.  After 3-4 hours in a slow cooker on high or on the stovetop you can shred your chicken or turkey for healthier pulled meat. For vegetarians try Jackfruit. 
The polenta can be made in the Instant Pot or on the stove.  If you don't have polenta sub with Rice Risotto or Quinoa Risotto or Mashed Potatoes.  If you have leftover polenta pour into a flat bottomed container so it can solidify and you can use it for polenta fries later in the week. 
You can make tacos with almost anything, that's why they are a favorite food everywhere.  These fish tacos are made with CORNMEAL CRUSTED FISH, PICKLED RED ONIONS, CABBAGE SLAW, and AVOCADO CREAM SAUCE, but you know there are lots of subs to make taco night fit with your pantry. 
Sub the fish for chicken, tofu, or portobello mushrooms.  You don't even have to coat them in cornmeal, simply grill your fish or chicken or you can make tacos with roasted peppers, sauteed mushrooms and onions or ground meat with spices.
I love pickled red onions, but they are certainly something you can skip, just make sure you have something acidic, even jarred salsa works. 
If you can't find cabbage, use fennel or kohlrabi to make a slaw. 
It's hard to have taco night without the guac, but it is doable, use Greek yogurt or sour cream for that cooling creamy topping. 
DOUBLE GRILLED CHEESE WITH FRIES
This recipe is here to remind you that you don't have to make a full out gourmet dinner every night just because you're home.  I guarantee you everyone will cheer when grilled cheese is on the menu. 
Use any kind of bread, even pita or tortillas work. Use any kind of cheese.  Add flavorings if you like, we like to add Harissa or Pesto, but use what you have and what you like.  For the fries, if you don't have any ready to bake up, make your own potato fries or roasted potatoes, maybe try these Zaatar Roast Potatoes.  Use the leftover polenta to make polenta fries.  Try a change with Sweet Potato Fries or Baked Root Vegetable Chips.  
Add a bowl of Tomato Soup to make it even better. 
This pasta is the ultimate in options and swappable components.  
Let's start with the pesto. I love to use pesto because it adds tons of flavor, but also has tons of vitamins and nutrients especially when you make your own.  I always cut down on the oil so follow my recipe for the proportions, but use any kind of leafy greens, from spinach to kale to parsley and any kind of nut. You can even mix the greens if you have a little spinach and a little basil put them all in your pesto.  Even those that don't like the leaves will love pesto. Extra can be used in the Grilled Cheese night above. 
Use any kind of pasta from penne to ziti to spaghetti, even spiralized zucchini will work. Don't have fresh tomatoes, used canned.  Don't have broccoli, leave it out and cook another veggie on the side or swap with cauliflower, asparagus, or green beans. 
I am sure pizza night is on all your menus.  Find our guide for 24 Mouthwatering pizzas here. You can use anything for a pizza crust.  Of course, we love to make our own or maybe your local pizza spot will sell you some dough but you can also always improvise with tortillas, pitas, leftover matzo, or portobello mushrooms.  
Use any kind of sauce, from a jar of tomato sauce to your homemade pesto we will call all of them pizza.  All cheeses can top your pizza even feta for a Greek-style pizza or go cheeseless and cover with lots of roasted veggies. 
Shakshuka is one of our favorite any time of day recipes. You can follow one of these two classic versions, a red sauce and creamy spinach, but there are endless possibilities. After all, Shakshuka means to shake it up or all mixed up, so you really can mix up all your pantry ingredients into a sauce, add eggs and wallah, your shakshuka is ready. 
For the classic red sauce shakshuka you can simplify it by using any prepared red sauce in your pantry such as pasta sauce or salsa then you can riff from there. Add eggplant, spinach, olives, cheese (we love halloumi or feta), okra, or even ground meat or sausage.  
For the spinach version, you can hack that one using a box of thawed frozen creamed spinach or sub the spinach with kale or chard.  
Who doesn't love a sheet pan dinner?  It screams ease, but I like them better than one pot dinners because everything comes out crispy.  I prefer roasted foods, so if you are like me you will want to take this recipe and make it every day with different ingredinets. So here goes. 
Swap the chicken wings with any other kind of chicken or prepared meatballs or tofu or fish or sausage links.  
Swap the harissa for mustard or swap the harissa mixture out for Duck sauce or teriyaki.  
Swap the chickpeas for white beans, black beans or fava beans or go with potato cubes or squash cubes.
Swap the broccoli for cauliflower, zucchini, green beans, asparagus, or kale. 
What's your favorite way to make this sheet pan dinner?
Asian noodle dinners are always winners and this one is so simple because you get to throw everything in a pot and 10 minutes later it is done!  Don't feel hindered by the ingredients you might not have or other ingredients you want to use. 
Add tofu or chicken cubes, marinate them in soy sauce and pan fry while the past is cooking. 
Use peas or edamame instead of both. 
Skip the miso paste if you can't find it.
Use fresh ground chili pepper if you don't have sriracha. 
Add or swap in sliced peppers, broccoli florets, or red cabbage.
Baked Eggs with Sausage Sweet Potato Hash
You won't believe how many people are still surprised to find recipes with sausage on our site.  Often times sausage is made from pork, but for years we have been able to find kosher sausages made from beef and/or chicken at most kosher butchers and even at Costco. Still, if you can't find sausage, just use hot dogs. You can even use vegetarian hot dogs or sausage in this recipe. 
The best thing about hash recipes is they are meant to be a mix of everything you want to use up. This version has sweet potatoes, peppers, sausage, and eggs. Try some other hash ideas. 
Swap sweet potato for Russet potato, instead of sausage use corned beef cubes, instead of peppers use cabbage and serve with mustard. 
Swap the sweet potato for cauliflower, leave out the meat, add smoked paprika and cook with eggs. 
Do you have some vegetables you don't know what to do with? Let us know in the comments and we can come up with more flexible dinners for you.