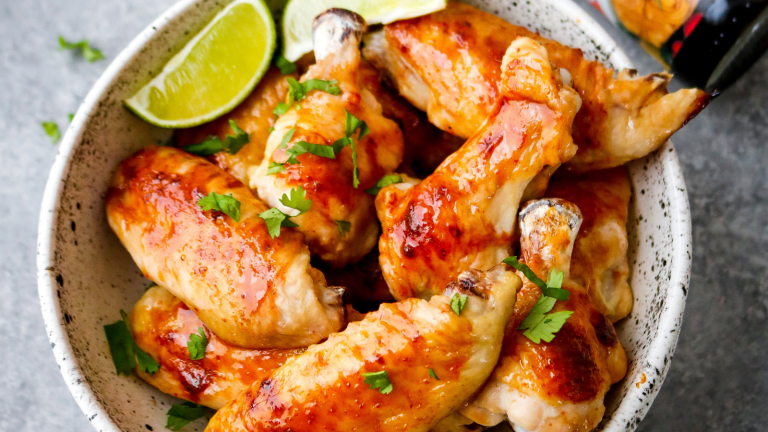 Winning Wing Recipes for The Super Bowl
According to the Chicken council of America, Americans eat an average of 1.25 billion chicken wings during the Super Bowl.  What about duck and turkey? We don't want to see them left out.
So this year consider a new kind of wing.  We have a bunch of wing recipes we used all kinds of wings, we didn't leave anyone out.  Whether you want to make regular ol' chicken wings or go for something new with duck wings or turkey wings, these recipes will inspire.
Slow Cooker Mole Chicken Wings
Regular chicken wings get a little messier with this mole sauce.  Made in the slow cooker, you can set them and forget them while you prepare for your Super Bowl Party feast.  
Prefer a more classic version of wings? Here you have the classic buffalo wings, made quick and easy in the oven and don't forget the avocado dip. Want to change it up just a bit? Try Cajun Buffalo Wings. 
If you like the classic buffalo wing flavor but want a little more meat on your bones try it with turkey!  The result is a meaty wing with a spicy, finger-licking good sauce.  Get the recipe for Turkey Buffalo Wings made with coconut oil and served with the best Non-Dairy Ranch dip.  If you want to try turkey wings, but don't want the sauce go with these Hot and Spicy Turkey Wings simply prepared with a spice rub.  You can also try these Asian marinated Party Hardy Wings or these smoke flavored Smokin' Wings. 
Spicy Szechuan Peanut Crusted Duck Wings
Duck wings are newer to the scene, they are gamey and require a bit more prep, but if you like duck it is worth it.  You can also feel free to use this coating on chicken or chicken wings, the flavors of peanuts and Szechuan peppercorns perfectly match the duck or chicken for a fun game day recipe.  If you have duck wings but want to keep it simple, go with these 5-Spice Duck Wings on the grill. 
Are there any vegetarians in the crowd?  We know it's not the same thing, but it is really good, they also make a great side dish.  Try them with Buffalo Sauce too. 
For those looking to get more adventurous with more sauce ideas and flavors, we have more wing recipes below. 
What's your favorite way to make wings?