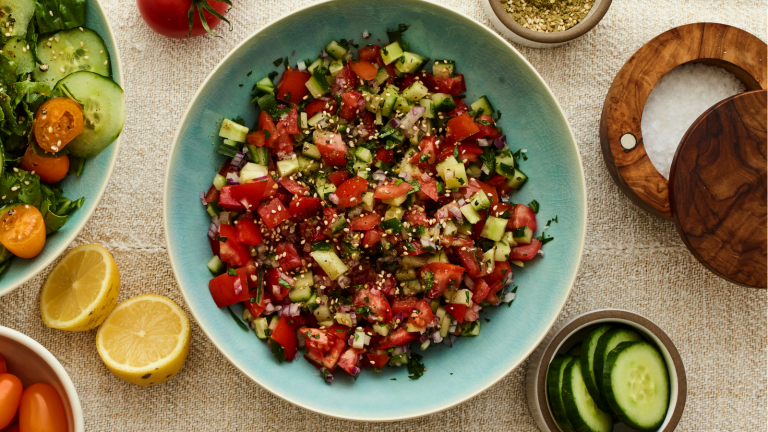 Salatim - 23 Israeli Salads and Spreads You Need To Start Making
Salatim literally means salads, but they don't refer to the first course salads you're used to in America, they refer to the multitude of small salads served at traditional Israeli grill restaurants.  
When you sit down to a Shipudei (Kabob) restaurant they immediately lay out between 10 and 15 salatim along with pita or fresh hot laffa bread.
Related: No-Knead Whole Wheat Pita
These days my Shabbat table starts out similarly with an array of 5-7 salatim to start the meal.  After that all we have is some grilled chicken and we're a happy family.  The trick is to change them up each week.
We always have hummus, tahini, moroccan carrots and matbucha, but I change it up with a different mix each week of eggplant, cabbage, Israeli salad, avocado salad, and more.
Watch how some favorite Israeli salads are made, then scroll down for links to the recipes and more ideas.  
Related: Modern Israeli Shabbat Menu
Here are 23 salatim so that you can choose your favorites for your next meal click below to scroll through the gallery of recipes. 
23 Israeli Salatim Recipes
As a counterbalance to this article check out 23 Salatim that are NOT Israeli.  After posting this list, I received a request for all the little salads that are not quite Israeli but still loved and can even be added to your spread.