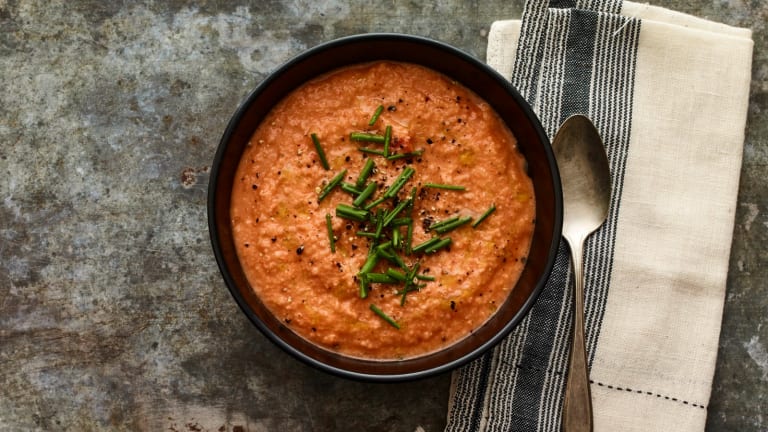 Summer Shabbat Lunch Recipes
Cooking during the summertime can sometimes be a pain. The heat makes you lethargic, so you want to cook something that's not too tedious or time-consuming, as well as something that won't make your kitchen feel like a sauna. Here are four great recipes to cook for Shabbat in the summertime.
GAZPACHO
My family loves soup. Thick and creamy, hearty or light, cold or piping hot – we're just into soups. I was raised on it as a main dish, as a side course, as dessert. So I figured it would be a snap to prepare. After all, it's mostly water, isn't it?     
It should come as no surprise that I cook soup year-round, and my whole family clamors for it. My father and grandfather shared a totally unscientific theory: Eat
hot soup in the summer because it cools you off! First you eat, then you sweat and
then you're cool. My husband eats my chicken soup in the summer too, but not because of any such  theory.  It's simply because he loves it. 
I know many prefer not to turn on the stove or oven or even hot plate if they can avoid it and there is something refreshing about cold soup.  Gazpacho makes the perfect Shabbat lunch appetizer.  Serve it in bowls or in a shooter glass, no spoon required!
While traditional gazpacho is made from tomatoes there are so many ways to make cold soup from different veggies to a mix of fruit and veg. Check out 13 recipes for cold soup you will want to make this Summer. 
CORN SALAD
Nothing says summer like corn, but when you have company over for a Shabbat lunch, you might not want to have everybody eating whole ears of corn, with the kernels getting in their teeth and all over their faces. Keep it clean with fresh or roasted corn salads.  Some of these recipes even called for canned or frozen corn, you use what you have time for and I never judge, but please try as many of these 10 corn salads as you can. 
KABOBS
Kabobs are always great for Shabbat, marinate ahead and they cook super quick. They can be served cold or at room temp, with sauce or with a salad.  Buy pre cubed meat to make it extra easy. If using wooden skewers make sure to soak them to prevent burning.  Try one or all these recipes for flavorful skewers. 
What do you like to cook for Shabbat lunches in the summer?