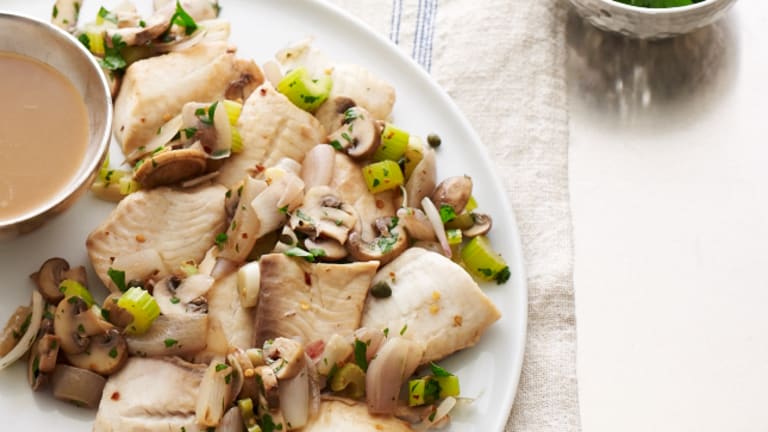 60 Fish Recipes To Spice Up Your 9 Days Menu
The 9 days can be tricky menu-wise for the entire family. Recently, we posted a special roundup of 9 Unique Meat-Free Dishes for those in your family who aren't interested in fish. This week fish is our focus because for so many people it's a staple during the 9 days. Whether it's salmon, tilapia, flounder or halibut or even cooking a whole fish, we have 38 (WOW!) options so you won't have trouble figuring out what to make.
Salmon:
Salmon is arguably one of the most common fish on peoples' tables and these are some amazing salmon recipes for you to try.  Starting with this Sesame Soy Salmon perfect for a fresh, filling dinner or lunch.  Or for an interesting twist on salmon, try these Indian Inspired Salmon Cakes which have just the right amount of spice. You can try our 9 other salmon cake recipes by clicking here. If salmon cakes aren't your thing and you're looking for a lunch option, try Savory, Lemon-Chive Cream Cheese And Smoked Salmon Wrap. For a fancier, nutty recipe you can try Pistachio-Flaxseed Crusted Salmon. Click here for 6 options for honey salmon recipes, including a salmon tartare.  Browse below for 23 favorite salmon recipes. 
MORE: Simple salmon in 10 minutes or less
Tilapia:
Chicken marsala is a family favorite so, of course, Marsala Tilapia gets eaten so quickly there is hardly a need to clean the plate. It's filled with delectable mushrooms and is best when made with fresh fish. For a dairy favorite, try Parmesan and Sun-Dried Tomato-Crusted Tilapia, its simple ingredients are very flavorful! You can also try Tilapia With Cheesy Roasted Pepper-Chipotle Rice. I assure you it is a toss-up which is better, the rice or the fish!! For something totally different try Tilapia Ceviche With Mango or any of the recipes you can browse through below. 
MORE: All of our tilapia recipes can be found here.
Flounder:
The Seared Summer Flounder recipe is a really cool fresh fish dish. It's super easy, but one trick is that you need a blow torch. If you are looking for something more traditional, but yet still interesting try Asian Vegetable Stuffed Flounder or Flounder Fillet With Carrot Coins. If you want to mix your flounder with salmon these Salmon Flounder Pinwheels with Edamame Rice Salad are a perfect recipe for you. Finally, this Flax-Breaded Flounder is a great option for those who are gluten-free but love breaded fish.
MORE: A quick and easy pan-fried flounder recipe
 Whole Fish:
Be adventurous with your cooking during the 9 days and try cooking a whole fish. The Grilled Branzino with Olives and Lemon, pictured here, is a great start because the recipe is super simple. You can also try Mediterranean Baked Trout with Fennel Salad. Although a bit more complicated, only because it required a little more chopping, the outcome makes you feel like you are eating in a fancy restaurant. The fish in this Mustard Panko Butterflied Fish is, as the name suggests, a butterflied whole fish which the fish store can easily do for you. It also required few ingredients and tastes amazing!
MORE: Tips on how to cook a whole fish
Halibut:
Halibut is one of those types of fish that you can't go wrong with. It's delicious paired with artichokes in tomato sauce, like in the image above. Whether it's in a soup, like this Hearty Halibut Chowder, or cooked in and topped with pomegranate, like these Halibut Rolled With Pomegranate Stuffing and Halibut With Pomegranate Molasses and Herbs, halibut is the perfect fish type of fish for the 9 days. You can also try crusting it with walnuts by following this Walnut Crusted Halibut with Honey Soy Sauce recipe. The crunch pairs well with the meatiness of the fish. One more option is to try it grilled and topping a salad, such as in this Grilled Halibut Salad with Avocado, Tomato, Olives and Egg with Herb-Garlic Toasts.
MORE: For all of our halibut recipes click here.
There are definitely other types of fish that you could add to your 9 days menu... Let us know in the comments what your favorite fish is!!
Want stories like this delivered straight to your inbox? Sign up now for the Jamie Geller Weekly Newsletter.