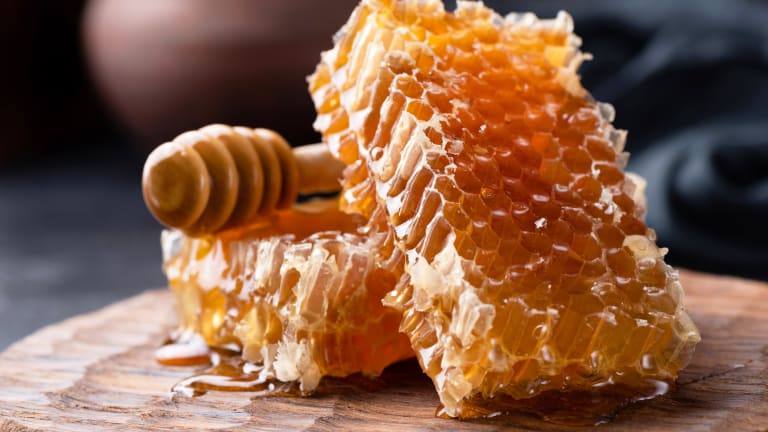 Honey and Rosh Hashanah and How To Have a Sweet New Year
Ever notice the emphasis on honey for Rosh Hashanah?  We slop honey onto apples, honey on challah, bake honey into cookies and cakes.  Everyone will tell you it's for a "Good Sweet Year."
Will ingesting tons of honey change my fate in the coming year? (I don't know, but I'm certainly game to test the theory!) Well, at least it will remind me to be a sweeter person, and maybe that will earn the blessings I need to help me along.  In fact, pulling down that kind of spiritual aid is precisely the purpose of some remarkable little gastric Rosh Hashanah customs.  Funny how even the foods we eat, rivet our attention to our ultimate goals.
There are certain foods called simanim—literally signs or indicators—that are meant to point the way to improved circumstances.  Traditional Jews make it a point to eat these special foods (that include spinach, leeks, gourds, cabbage, carrots, pomegranates and dates), preceded by a heartfelt prayer connected to the character of the food.  There's even a custom to pray that in the coming year we will be at the head, rather than at the tail end, of good fortune.  Not to gross you out or anything, the siman for this is consuming (or at least nibbling) the cooked head of something: fish and lamb are popular choices.  To my mind, pickled tongue qualifies for this benefit.  Hey, it's part of the head, isn't it?  And just a tad more appetizing.
Some of the most fascinating simanim are based on word play.  A generation ago, Jews in the Ukraine fed their children chicken livers on Rosh Hashanah because the Yiddish word for livers, leberlach, is homophonous with leb ehrlich, "live honestly."  Typically Jewish, isn't it?  Even a kiddie snack is a lesson in ethics!  And then there is the more contemporary creative "custom" (although I am not sure how widely practiced this is) of combining raisins, lettuce and celery, with the heartfelt wish: "Lettuce have a raisin celery."
Colorful food customs like these come from every corner of the Diaspora, I love this recipe for Sweet Carrot Salad (Featuring the Simanim: Carrots, Cabbage and Honey) it's one dish that includes 3 simanim.  It's fun to be creative and see how many of these foods you can work into your meal.  I've been told by a quasi-serious rabbinic authority that it's OK to improvise your own simanim, too.  So how about ending your Rosh Hashanah meal with a really light, low-calorie dessert, accompanied by the solemn wish, "May the empty calories we eat this year be null and void; may they be like the dust of the earth, and evaporate like dew in the desert!"
Honey: The ultimate sweetener to sweeten up the coming year!  There's another reason for honey, too.  The numerical equivalent for honey (dvash) is 306, the same as Av Harachamim, a term for G-d, "Father of Mercy."
Honey is the most universal symbol of Rosh Hashanah. As everyone looks to wish one another a Sweet New Year. We take that phrase for granted as we have heard it so many times over for so many years running but it is such a beautiful wish. We use adjectives like good and great and wonderful to describe experiences, hopes and dreams but sweet is a quite beautiful word, for me, it conveys something more than the commonly used positive adjective, it conveys something warm, something homey.
I always say it doesn't have to be the Jewish New Year to give that cute little honey bear a squeeze -- our version of the Pillsbury dough boy. I happen to love honey in my coffee, baked goods and chicken dishes. In fact I have 3 favorites developed for Rosh Hashanah but used year round because we love them so Honey Chicken, Date and Honey Glazed Chicken Thighs and today's linkup recipe Honey-Sesame Glazed Chicken. In fact for one of my first Shabbos' in Israel Honey Chicken made the menu.
Browse through more sweet new year recipes featuring honey below.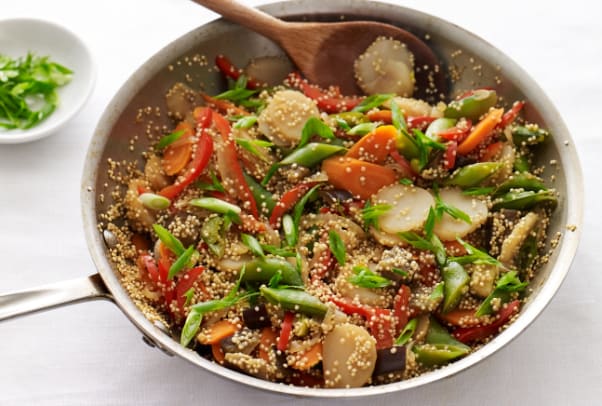 Wishing you the sweetest of years and all good things.